Chicago Office Movers Helps Move Ducks to the Mag Mile
Summer in Chicago promises to be just-ducky! Residents and tourists can expect to see 25 brilliant yellow duck sculptures throughout downtown and in surrounding communities. But positioning these large sculptures takes muscle power—a job professional movers handle with expertise.
What is Ducks on the Mag Mile?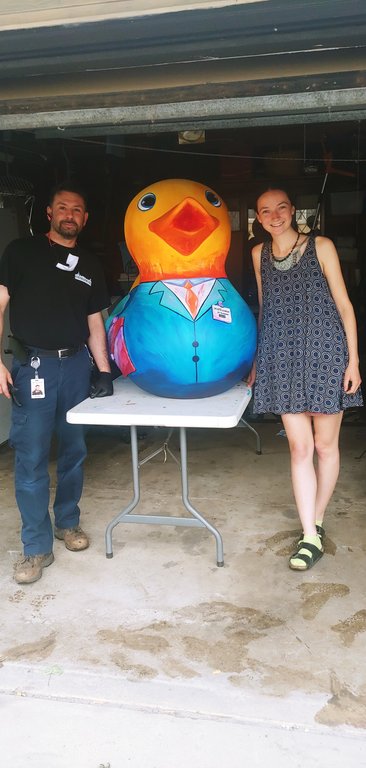 The city's special showcase is known as Ducks on the Mag Mile. The public art is commissioned by local and national artists, many with disabilities. The giant duck sculptures are on display along North Michigan Avenue and nearby areas from June 15 through August 9, 2020.
Massive duck sculptures feature multi-colored hues and extravagant designs. Visitors to the event can expect to see a range of spectacularly painted ducks, including those with titles, like Doodle Duck, We are Better Together, Together We Rise, We Are All Special and Stronger, Happier Together.
Special Olympics Illinois is behind this illustrious project. The Make Corporation, the Magnificent Mile Association, businesses and individuals also support this unique and artistic Chicagoland endeavor. The Ducks on the Mag Mile serve two important purposes: one celebratory and one promotional.
Firstly, the Ducks on the Mag Mile is intended to celebrate inclusivity. Those with disabilities are especially celebrated and recognized through the project. Secondly, Special Olympics Illinois' August 6th fundraiser, Chi Ducky Derby, is promoted via the organizers' collaborative efforts.
The Special Olympics is a familiar, global movement that aims to celebrate people's various abilities—rather than their disabilities. Sports, leadership, community building, health and education are all pathways through which Special Olympics participants empower themselves and grow in confidence.
Once the Ducks on the Mag Mile event ends on August 9, the picture-perfect duck sculptures will be sold on public auction. Proceeds from the sales will go to the 23,000 Special Olympics Illinois athletes; 80 percent of raised funds go to Special Olympics Illinois programs.
How Does Chicago Office Movers Help?
The duck sculptures—being three-to-four-feet wide and tall—are bulky and weighty. Professional handling is required to ensure these delicate yet enormous works of art remain intact from their original locations in the artists' studios to each designated spot on the Magnificent Mile and nearby areas.
1. Coordination Services
Chicago Office Movers crews use professional moving equipment and trucks when relocating large items, including delicate artwork. Our team coordinates the relocation of the ducks by first creating a customized moving plan and then following through to make sure each duck stays stunning and intact.
2. Assembly Services
Safely transporting 25 immense ducks from point A to point B takes more than planning. Chicago Office Movers also provides assembly services. Each duck sits on a large, wooden base, which we move separately and then install onsite on the Mag Mile.
3. Installation Services
Our crews have years of installation experience, so moving the ducks and assembling them onsite in the city will be as seamless as can be. Chicago Office Movers specialists also work closely with organizers to help make the relocation of the ducks as efficient as possible.
4. Tracking and Inspection
Twenty-five large-scale art pieces should be tracked. At Chicago Office Movers, our team creates a detailed inventory list to keep track of every duck included in this major, citywide project. A careful inspection of each item is also included to ensure all 25 ducks are ready for public display.
5. Decommissioning Artwork
Once the Ducks on the Mag Mile event comes to a close, Chicago Office Movers crews will be prepared to decommission the artwork. Moving crews will carefully disassemble the duck sculptures from the wooden bases and safely transport them out of the city limits.
6. Secure Storage Space
Since the duck sculptures will be sold on public auction, organizers will need storage space to house the ducks until they are ready to be presented at auction. Our dedicated storage facility is ideal for temporarily housing large objects, like the Ducks on the Mag Mile.
Chicago Office Movers' storage facilities take the guesswork and stress out of knowing where to securely house the ducks once the event is over. Our 60,000 square foot climate-controlled storage facilities temporarily store a wide variety of large equipment, furniture as well as artwork.
Event organizers can be confident that the ducks will remain secure and in good condition while housed in our storage facilities. Once the ducks are sold on auction, our moving crews are available to pack, load and transport the ducks from the storage facilities to their final destinations.
7. Licensed Movers
Working with professional movers is key to a successful move, especially when transporting delicate works of art. Each Chicago Office Movers team member is licensed, bonded, insured and certified, which gives our customers extra peace of mind. We also have years of professional relocation experience.
Working with Chicago Office Movers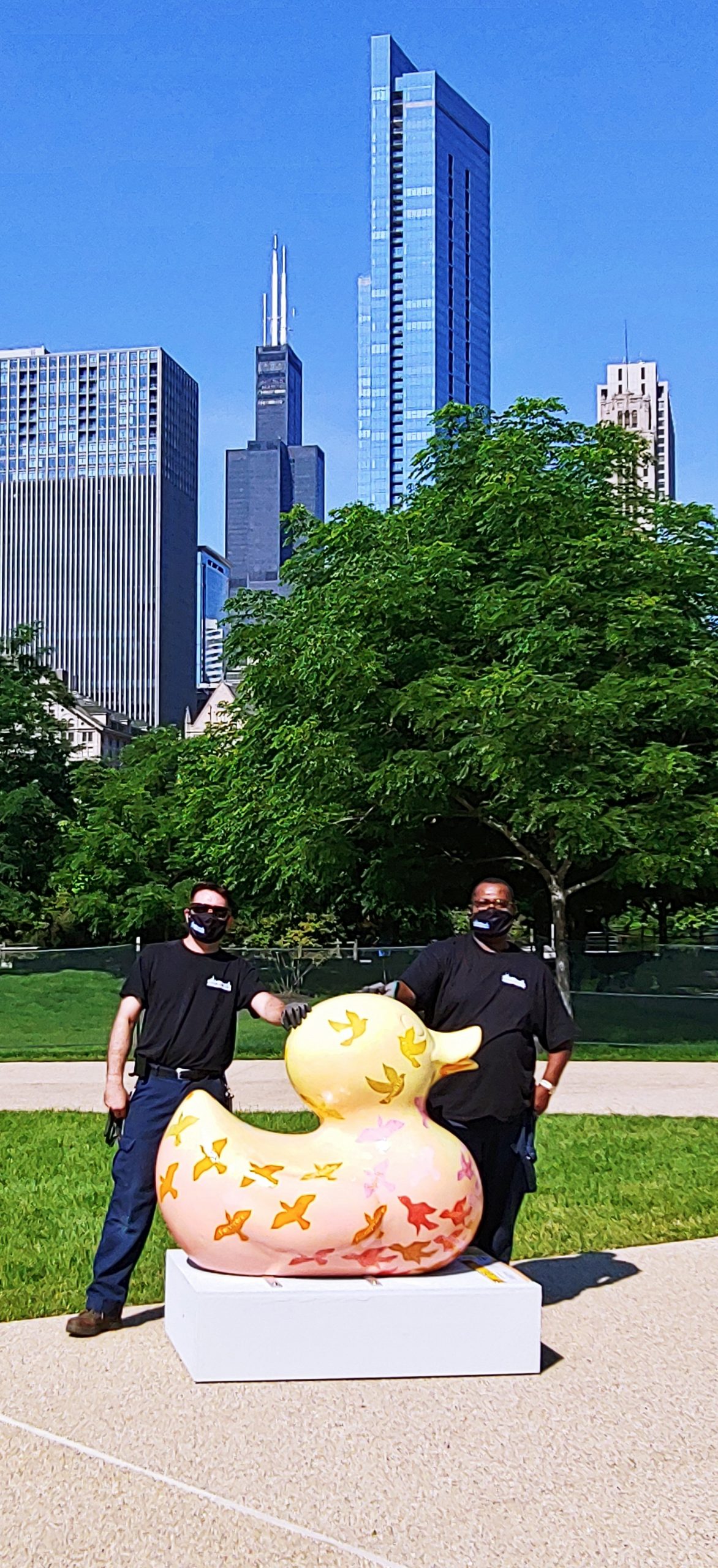 Plus, working with a local mover, like Chicago Office Movers, on relocations within city limits helps to sustain our economy. Located in Chicago, our moving company is available to quickly respond to our customers' moving and relocation needs. We are dedicated to serving the Windy City.
Chicago Office Movers has assisted and continues to assist countless area businesses with reliable relocation services. Our experience ranges from moving commercial businesses, educational institutions, government agencies and the hospitality industry. We are no strangers to moving delicate equipment or artwork.
When organizers look to Chicago Office Movers to help with moving the Ducks on the Mag Mile, they have the advantage of working with one company throughout the whole process. Our crews will assemble, install, disassemble and store the ducks efficiently and swiftly.
Every aspect of the relocation is coordinated by our experienced Chicago Office Movers team. Whether your moving needs involve delicate artwork, high-end office equipment, heavy machinery or bulky furniture, you can count on Chicago Office Movers to deliver high-quality moving services.
If your business is located in Chicagoland and you have a plan to relocate anywhere within the city, consult Chicago Office Movers. We offer a free estimate to businesses interested in our professional relocation services.
Contact Us
Contact us at 847-593-7201 for the best in local moving services.
Tags: chicago movers, ducks on the mag mile, local movers, storage services